We left together that morning, the three of us, Michel, my blond friend and I. I remember ( although other details are gone) I had a rough khaki pack I had bought at the Puces in Paris along with the French Army surplus greenish-grey wool blanket roll I carried with me. I must not have brought much with me to France since I seem to remember carrying it all easily, along with the thick French translation of Faulkner's "Light in August" I'd bought on a whim in one of the stalls on the Seine to see how southern America venacular translated into French.
We hitched a ride, if I remember, with a friend of Michel's, southwest out of Paris on the A-10 toward Orsay. We must have had a ride out of Paris that morning since I have no memory of sticking out our thumbs in the middle of Paris. We were bound on an adventure to the south of France before Michel had to return to see his parents in Strasbourg at the end of the summer. Our tickets home from Paris in September left us plenty of time to escape the skeins of our parents' concern in a time when the only communication back home was through American Express offices. What they didn't know wouldn't worry them. They would think we were busy in Paris or taking train rides together to places like Chartres. Dreams of my mother pulling up behind us on the road in her white convertible with the red interior pursued me for the first week and then faded into the background of our grand adventure.
By nightfall of the first day, we must have made it to Orleans or some small town nearby it on the Loire. We camped somewhere on a grassy verge of the rocky river bank, stretched out under a cloudy sky, grateful for the warmth of summer in our woolen sacks with rough sheet linings. We listened to the river and talked of the nearby chateaus we would never see, just as we had stood beneath the Eiffel Tower together, marvelling at the huge black iron girders, counting our sous and imagining the trip to the top. We saw nothing of the town that morning but stuck out our thumbs after eating bread and cheese from our packs.
Since the three of us had to stick together, hitching was slow. Drivers were not at all reluctant to pick up people along the roads, but most were pairs of women, single men or male and female couples. To "faire du stop" was an accepted way for people to travel, especially through the countryside, but cars were small and three at a time was hard to get. We took to having my friend and I stick our thumbs out by the roadside while Michel sat back somewhere slightly out of view.
We got a few short rides that day and made it to somewhere in the central rural farmlands. It was probably somewhere in the area of what is now the Department de Cher. It was getting quite late. Twilight had set in. It was likely our last ride had been in a truck that took us on a rather circuitous route. We found ourselves walking in the countryside where stands of trees still grew and inviting grassy spots under cover of trees clustered here and there beside a stream that ran behind the farmhouses. We were hungry and starting to feel more than a little tired and footsore. The shoes I'd brought with me had given me blisters and I had taken to walking barefoot when I could. The heat of the day had cooled enough to make the pavement tolerable but my legs ached. All we wanted was a spot to bed down safely for the night and a bit of seclusion. If I remember, we were somewhere near the towns of Theilley or Vierzon in the region of Cher. I will never know for certain.
Michel said he would go ahead a bit to check things out and find us a good spot to camp. In a few minutes, he came running back to join us.
"There's a farmhouse and a barn just up there. I think we can find a spot there. There are lots of trees and a stream. I know the kind of people around here. They're farm people like from my region. They're okay about sleeping in barns."
We walked together around the bend. By now it was fairly dark. Nightbirds called from the trees. He pointed to the little house just ahead to our right along the road. Quietly, we came up to the drive and stood together, looking for a dark opening somewhere in the trees. He motioned for us to follow him and whispered,
"Follow me".
Behind him, my friend and I crossed a grassy yard only partially concealed by bushes from the front door of the little house. A ladder leading to an upper hay door was built into the side of the small barn. We watched Michel mount it and climb quickly up through the square opening. He turned and motioned for us to come up.
We ran the rest of the small distance and followed him up as quietly as we could through the door and into a loft strewn with hay. Hay bales we stacked on the far side in step-like fashion. We paused for a moment, watching Michel looking around for the best spot, feeling worried about what the farmer would do if he found us here.
"Are you sure this will be okay?" my friend asked.
"I'm sure!" he said. "People do it all the time in the country."
Still feeling a bit like criminals, we helped him find a nice spot surrounded by bales and together, pulled hay from the floor and made a big luxurious bed for the three of us. We spread out our bedrolls and chose comfortable seats on the bales. Michel opened his pack and pulled out the bottle of wine he'd bought that morning. Bread, cheese, sausage and wine and maybe a cucumber or two we'd brought from the last epicerie we'd passed—each of us pulled some contribution from our pack. We drank from the bottle and feasted. Michel sang a song from Alsace with a little more gusto than we thought was prudent. To quiet him down, we tried to get him to teach us to sing it. We felt gay in this extravagant accommodation and somehow secure. After a while, we stretched out in our bags, sidling up to each other like puppies, talked softly until we were yawning and drifted finally into to a very peaceful sleep.
The sun took a while to reach us. When my friend and I finally opened our eyes, we discovered Michel was gone. We had a few moments of panic, quickly straightening out our hair and cleaning up the things left from dinner, thinking he had taken off in the night and left. In our flurry, it took a moment to notice that his head had appeared in the opening.
"I thought you'd never see me, you cabbages! Come on. Get up!" he said. "Bring your things. The farmer's wife has breakfast for us. Don't keep her waiting!"
We pulled on our packs, fastening them as we went, and followed him down the ladder.
At the bottom, a woman of indeterminate age, dressed in a long soft cotton dress of muted colors tied around the waist, stood with her hands softly clasped in front of her, following our progress down with her eyes. She spoke to Michel in an accent hard for us to follow. We looked at him with eyebrows raised in question. He interpreted for us, with a slight smile. "She wants us to come into the kitchen so we can tell her what we want. She has different flavors of fruit syrup for our water and she wants to know what you like."
As we followed them towards the front door of the house, I noticed a tray laid out on a small metal table next to the stone path. There was a bowl of brown eggs, sausage, small misshapen peaches and a bowl of blackberries. Spoons and bowls were stacked on the other side of the wooden tray with a bottle of milk, ready for our breakfast.
Inside the kitchen was small and lined with shelves holding jars, boxes, glasses, plates and bowls. Near the rough sink was a line of bottles with spouts holding liquids of vivid purple, red and brownish yellow. She explained the different flavors to us, all homemade—cassis, blackberry, cherry and plum is what I remember.
She handed us each a glass and poured a bit of our chosen syrup in the bottom of each. She motioned for us to fill the glass with water from the pump at the sink and then told us to come with her out the door. She handed Michel what looked like a tablecloth which he put over his arm. She picked up the tray and led us down a path into the trees near a stream. Michel spread out the cloth on the grass and the three of us sat down together. She carefully placed the tray on the grass next to us and told us that the eggs were fresh from her hens and boiled. There was a homemade loaf of bread and a jar of jam. We motioned for her to join us and she shook her head.
"J'ai encore manger. Bon appetite!" she said and turned and went back to the house.
I watched her go down the path, crossing through the shadows made by the morning sun. I still see her in my mind's eye.
My friend and I looked at each other with delight. Michel was more blasé.
"It's lovely, isn't it. This is what we do in the countryside."
We sat together, leisurely eating until we had consumed every crumb and talking comfortably about the road ahead. The interweaving of French and occasional English was now familiar. I remember how my friend and I, after feeling the isolation of inadequacy, had now begun to feel a re-emergence of our familiar selves, able to communicate more of the subtleties of our thought. I remember my delight when I began dreaming in French and then when I was able to understand some threads of the quips that passed from one person to another with the speed only the French seem to possess.
Filled with the beauty of the countryside and the various tastes of the food on our tongues, we stacked things on the tray and followed the path through the bushes back to the farmhouse. The woman was doing something in the yard and came to us when she saw us approach. She took the tray and firmly refused our efforts to help her clean up. We followed her into the kitchen where she and Michel compared notes about life on a farm, brief phrases intelligible through the thick argot. My friend and I asked about the various things we saw around the kitchen in jars and bottles, curious to find out more about the life of this woman here in her little house. She explained each one, Michel trying to find ways to explain the names that seemed unfamiliar.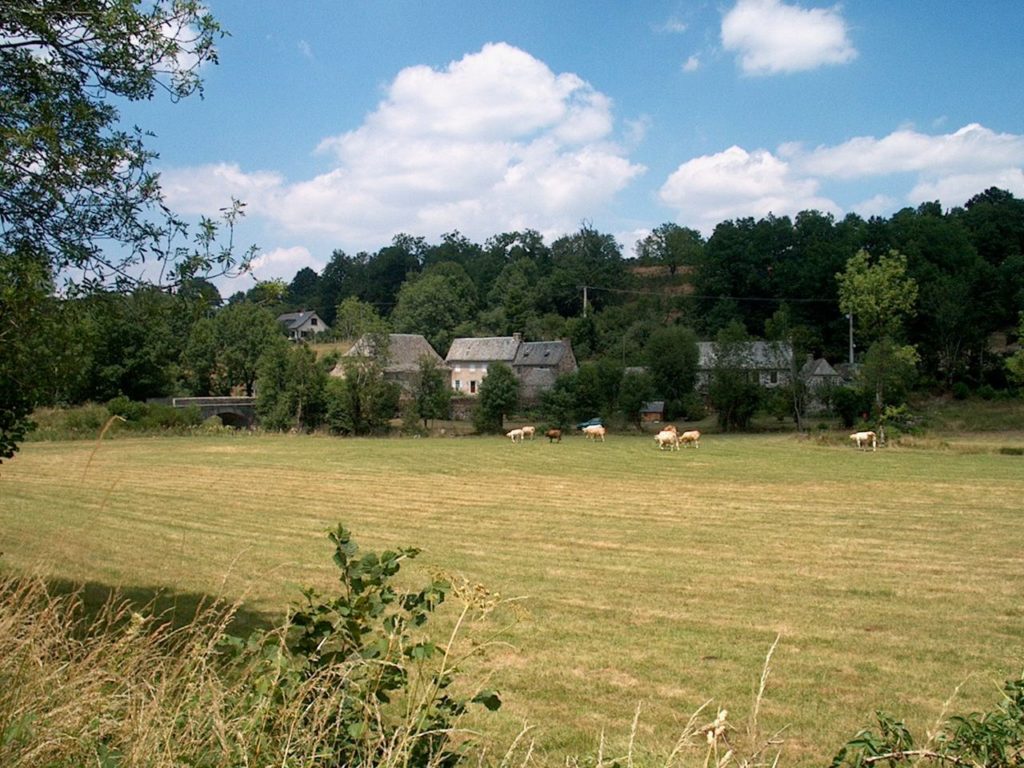 It was almost noon when we finally waved goodbye and set off back to the main road with more boiled eggs, cheese and bread stored away in our packs.
After such lavish accommodation, it was natural that the day that followed would have to be one of the more challenging. Car after car passed us by on the autoroute. Trucks whizzed by. We made it from one village to the next small town in the Centre-val-de-Loire.
Our next ride took us a short way to a turn off to a farm. We walked for a while on the highway as the afternoon turned toward evening and the light began to really fade. It had been raining on and off all day and now it was cooling. Cars were speeding by, on the way home with no thought of stopping to pick someone up. We realized we had to find a place to get off the road and bed down. But where? As with some American roads, there were fences along the roadside and fields beyond with no cover.
Up ahead a kilometer or so, we could see the lanes part to start a divided four-lane highway. There at the division was a patch of grass with a few trees. We walked along down the right side until we were close. Waiting for a time when there we no oncoming cars that could see us, we dashed across the two lanes to the island, ducking behind the bushes we'd seen from a distance. An empty bottle and a few wrappers indicated that we weren't the first to think this was a decent spot to camp.
We spent a cold and noisy night on the grass and gravel, making sure that the first to wake up woke the others. Just before dawn, we rolled up our bags, changed into dry shirts and ran over to the other side of the highway.
As the morning dawned, it was clear that things would go better. The first car didn't take us far, but it took us to a small village square where the cafe was just beginning to open. We waited for awhile on a bench while the man who swept the streets did his job and the cafe owner rolled up his metal door, put out the round metal Richard ashtrays on the tables and put out the chairs that had been stacked for the night. As soon as he was ready, we crossed the cobbled square and went in to order our cafe au lait and baguettes with butter. Satisfied, we went back out to the road and once again, stuck out our thumbs.
The next car that stopped was a nice little dark blue Renault with a young couple. They let us pack into the back with our bags with no fuss. As we drove off, we were already chatting about our trip, where we came from and where we were headed. They lived close by and were out on an excursion to the market and lunch, but it was "le weekend" and they were up for anything. They asked us if we had time to see something in the countryside, a bit of the beaten track. They promised to take us there, have lunch with us and then drive us to the turnoff to Lyon at Clermont-Ferrand. They had friends there and would have a drink with them that evening.
Of course, we had time! Chattering as we went, Michel helping us to understand some of the quips and jokes, they turned off the highway onto the two-lane secondary roads. After some time driving through pleasant countryside full of the vistas of fields and roads lined with Plane trees, coming through village after village, they turned off the road onto the grounds of a small ancient stone church.
"This is what we wanted to show you," they told us as they stopped the car. We piled out.
"It's one of the oldest existing churches in France. The original monastery was built in the ninth century. There are catacombs under the church. Come, we'll show you. It's wonderful."
As we approached the entrance made in the ancient way with arching mortared stones, I remember the sense of enchantment that we would be led to such a place where clearly very few tourists ever came. They lead us through the cool echoing nave with a few rows of wooden benches. I remember only a simple altar in the transept and stain glass window of a simple figure of Christ behind it in the small rounded choir. They went ahead of us to the side of the transept, opening a small door. As we followed them, we could see stone steps curving downward. We climbed down the spiralling stairs to a stone area below.
There, with the only light from a few bare light bulbs hanging from the ceiling, we saw the rock partitions that once formed some part of the walls of monks' cells. We wandered through the whole underground warren which seemed to extend out behind the actual walls of the church above. The couple explained this had been the original monastery, built in the Ninth Century. In that beginning time, there had been a small Romanesque chapel above. The church had been expanded and rebuilt in the Twelfth Century. Renovations had begun and then stopped in some more recent time. Now without a congregation, it was maintained somehow by local people and government funds.
We stood there for some time, each in separate spots in that enclosed space. Clearly, our thoughts were given wings by the place. There was something in the confined air, the cool stone that provided me a peaceful, pervasive sense of the centuries of meditation, the endless hours of chanting that had reverberated here and in the church above. It seeped in through my skin into my bones, sending a shiver through my spine.
We left quietly, with a reverence for a place of worship neither my friend nor I had absorbed growing up with modern intellectual American parents. To this day, I don't really know where we had gone or whether I could find that place again.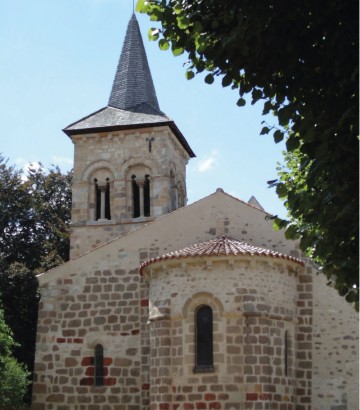 The couple drove us to a cafe in a village square in their little blue Renault. I'm sure we shared a carafe of local wine and some ham sandwiches on lengths of baguettes, but I have no real memory of that meal or of the rest of our time with them. They must have dropped us off as promised.
I think it was late that afternoon that a large car with a middle-aged man at the wheel stopped to pick us up. We climbed in with a bit of hesitation, exchanging glances, as he was a fairly large and burly guy who gave off a sense of authority and the habit of power. He was going to all the way to Marseilles and would drop us off when the road diverged to Cannes. A long way. Michel motioned for me and my friend to take the back seat as he went around to the front passenger seat, but the man said,
"You and your girlfriend can have the back," and he motioned for me to sit in the front, next to him.
We drove and drove, taking occasional bathroom breaks at small gas stations. At a seeming truck stop somewhere before Lyon, late at night, he turned to me as we were headed back to the car and said, "You can drive, right? I'm tired. You drive now." It was clearly stated more as an order than a request.
Fear immediately gripped me like a sickness in my stomach. I had never driven a stick shift. I'd never even driven in France. I had little experience driving in any unfamiliar terrain, let alone another country whose regulations I didn't know. I had no international license. When I tried to explain, he simply brushed me off with a shrug and a little gesture toward the passenger door.
"I'll help you shift until you learn. You'll figure out the rest," he said.
Michel put his hand on the man's shoulder and tried to pull him aside to talk but the man just turned away.
"I'll drive," Michel said.
"No," answered the man, "I want her to drive. It'll be good for her."
The three of us managed quick glances back and forth and Michel whispered,
"I'll stay awake. Don't worry," and opened the driver's door for me.
The man got into the passenger seat and showed me the controls, running through the gear stick and how to shift with the clutch pedal.
"Now go ahead," he said, "Start 'er up and I'll help you shift to get on the road. Once you get going, you can stay in fourth for a while."
I turned the key and put my foot on the clutch as he instructed. With his hand on the gear shift, he instructed me about when to depress the clutch and when to release. As we lurched forward he yelled,
"Gently up on that pedal! Feel it engage!"
Once we were on the two-lane highway, he sat back in his seat and said, "When we're approaching a town, let me know. I'll help you."
He must have dozed for a while. I felt Michel's hand on my shoulder even so often as he whispered,
"D'accord?"
My friend slept next to him in the back, waking when Michel leaned forward. Stiff with anxiety, my brain on constant alert, I managed to gauge my speed, feeling very lucky that our car was almost alone on the road.
Signs began to tell me that we were approaching Lyon. I could see the yellow of the sodium street lights in lines near the horizon, reaching inwards towards in other in the distance like a study in perspective. I said,
"We're coming to Lyon."
The man woke and stretched, his arm muscles evident, yawning loudly. He said,
"Slow down a little. I'll tell you when to put in the clutch and when to shift."
I suddenly felt his big hand on my thigh. "I'll guide you," he said.
As we approached Lyon I was almost frozen with fear. His hand was creeping further towards my crotch, gently massaging. I tried to pull my right leg over towards my left, making it harder for him to reach. It did no good. His hand just followed. My mind, half concentrated on navigating through stop lights, traffic signs and instructions from the man to do things like turn off the headlights through town, and half on keeping him from groping further without infuriating him, we somehow made it through the city. Now I was really worried. His hand was still there. What would be his next move? Would he make me stop the car and get out? I seemed to remember that at some point he had mentioned a knife he kept somewhere in the car, maybe the glove box.
After leaving behind the lights of the city, he suddenly said,
"I have to pee. Turn into this next station."
I slowed the car and turned in to a parking lot, his hand alternately helping me with the gear shift and going back to its anchor on my leg. We came to a stop and he opened his door and got out. Thinking he would go towards the building, I was appalled to see him going around the front of the car, clearly headed towards my door. Panicked, I tried to sidle over to the passenger seat. As I tried to manoeuvre, I caught a glimpse of Michel opening his door behind me and lurching out of the car. He stood in front of the man, blocking him from reaching for my door. He put turned to me through the partially opened window and said,
"Go. Get out!"
My friend in the back seat was opening her door as I made it to the other side, opened the door and slid out.
My friend and I looked around wildly to see where we were. Over to the side of the parking lot was a group of men, standing around talking and smoking. A couple of tractor trailers were parked near them in the lot. In the blur of the next minutes, there is a haze in my memory, but it is likely that Michel, having lived in the rough section of Paris, was used to carrying a knife and used it to keep the man where he was near the car. He was suddenly with us, pushing us towards the group of men, putting one of us on each side of him, his arms coming up around our shoulders. As we came up on the men, Michel glancing behind him, he said,
"Who can give us a ride south? There's a little money in it."
Them men looked at each other, one looking down, dropping his cigarette and grinding it out on the pavement.
"I'll take you. How much?" he said.
Money changed hands. The driver motioned for one more bill. Michel peeled it off and arms still around us, said,
"Which one?"
and pulled us quickly over to the cab the driver had indicated. He boosted us up the high step. The driver motioned us through the door and opened the curtain behind the seat to show us the bed behind.
"You can ride in there," he told us.
The driver's partner climbed up into the other side, we got through into the little loft behind the cab and the driver got in, pulled the curtain closed and started the big engine. Michel parted the curtain as we began to pull away, looking into the lot.
"He's still there, standing by the car," he said. "I don't think he'll try to follow."
"God! That was too close!" said my friend.
"Yes," I said. "Yes. Too close."
My heart pumped wildly in my chest as if feeling a rushing thaw after being frozen in my chest for hours. Michel pulled out a bottle of wine from his pack, opened it and we passed it around until it was gone. The driver's partner handed us back some packets of nuts and we began to relax. I think we laughed together at Michel's gallantry, I hugging him around the shoulders in relief. Michel leaned over to the driver and asked how many hours to Cannes. Since it was quite a few and he was going all the way, we stretched out on the bed and dozed off, the driver's partner snoring in the front seat.
(To be continued.. More about the journey to Greece in the time of Joanie)