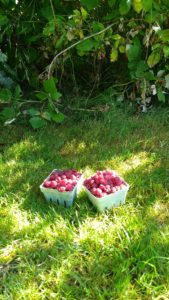 This has been an odd week. Much to think about (small details like the direction of our lives and what the universe is truly asking of us at the moment).
There've been raspberries to pick at least once a day (42 quarts in the freezer and counting), gooseberries to pick and freeze (small harvest this year–2 quarts in the freezer and more ripening on the bush for eating), black currents to pick (Creme de Cassis is in the cool storage, aging for the holidays), favas to pick, process , and freeze, zucchinis to do everything you can imagine with, snap peas to pick and distribute, broccoli to pick, blanch and freeze, the flower garden to tend, watering in the summer dryness of the Northwest and the house to clean to an inch of its life to get ready for a showing that never materialized. And the jewel of the week–a much-too-short visit in Seattle with my son who lives too far away and I haven't seen for far too long.
Now my son is on a flight back to Indiana. The raspberry bushes have given all their summer energy to their fruits and are passing into the hot calm of August, their leaves beginning to dry and the fruit ripening too fast to keep up with, drying on the branches. I'll pick a few more pints today and tomorrow and then that cycle will come to rest. We'll be busy with more picking, processing, cooking and eating in the coming weeks.
There's plenty of food in the freezer with lots more coming. Walter's quarts of canned cherries, beautiful in their row on the shelf in the canning room, will be joined by pickles and canned tomatoes, drying garlic, onions and potatoes.
When we move to France, someone will have a lot of food for the winter. Or we will eat the food from the land we walk on as we have for thirteen winters. Life is good one way or another. When the moment is right, we will gather our forces for yet another adventure on another continent.
Meanwhile, this week I will work on another story and you can read some of the stories you missed. Browse by category. As my son said, "It's hard to keep up."
I know what he means.