The day before yesterday was the twelfth anniversary of my daughter's wedding. It was a hot day in Portland that year as it had been twenty-one years earlier when my daughter and I arrived in our new home in the Northwest in another July. On that day, we had traveled together for a week from Long Beach, California, up the Pacific Coast Highway all the way.
She was three at the time, just as my granddaughter is now. The sides of my abdomen were just thickening with the pregnancy that would be my son. Her father had gone ahead to start his new job and we had said good-bye to all our friends. I hadn't wanted to leave. Life had been good in the warm weather on the bay with plenty of families around us with young children.  But life turned on its own events.  I decided to make the best of the time I had alone with my daughter. We would have a long road trip, wandering up the coast, stopping wherever fancy lead us.
Our household belongings had gone ahead in a moving van so I packed our bags for the week into the back of our Nissan and pulled out of our driveway in the old part of town for the last time. We were on the road! She was excited, in the back in her car seat.  She yelled "Bye everyone! Bye house!"
The trip started with familiar landmarks, the road out of town, then taking the long way through San Pedro and Seal Beach with the roiling landslide-heaved roadway, the two of us yelling the usual "Whee!" here and there as the road dipped and pitched. The sky was nearing blue as always in July before ten am, day after day, when the low morning clouds rolled off. The temperature was climbing, but not yet hot. We stopped to take a walk down the path to the beach where we came often to play in the sand and look for shells in the water. She ran ahead with her bucket down the wide trail, wispy hair blowing in the same rhythms as the sea grasses rasping in the breezes.  It was still morning. Plenty of time. No rush. Nowhere to be. We might just get to Morro Bay that day or maybe we'd find something else to woo us.  She ran to the water's edge, the waves hissing in at her feet, and stood for a moment, pail at her side and shovel lifted as if in unconscious salute. We walked through the water for a while, side by side, splashing the moving water with our feet, then sat on a towel and had a bit of snack.  We waved good-bye to the beach with its odd old concrete wreck of a building, surrounded by a few crumbling concrete tables with shredded old fake bamboo umbrellas leaning this way and that.  I felt as if we were leaving some secret ruin we had discovered, still unexplored by others, our special spot where we'd told stories and made things up, now to be left for others to defile.
We travelled for just a few hours that day, taking Route One all the way around the big airport, up through Santa Monica, past Will Rodgers Beach, singing Raffi songs and pointing out things along the way.  Around Santa Monica, I'd decided to stop at my favorite restaurant for lunch at a place in Topanga Canyon with decks arrayed around a stream and "whole food".  It was a splurge. We were doing that.
We had a leisurely lunch, with me even sipping a glass of white wine, until she began to get a little cranky. Time for a nap. We head off up the road. After she'd fallen asleep, I pulled over in a spot near Malibu that smelled of eucalyptus and had one of my own short naps to take the edge off.
I'm not sure I remember how far we got that day, but I remember the road trip games, one spotting animals and earning points based on the different species. Camels and elephants were one hundred points. We saw both that day. She got one and I go the other. I think she got the camel, the most exotic by our count. We laughed and maybe I cried a bit to myself, I'm not sure.
I'm pretty sure we stopped for another look at Hearst Castle the second morning, spending the most time looking at the swimming pool and the strange plants. We indulged in everything we wished, ice cream, beer, lingering over things that made sense to no one but us.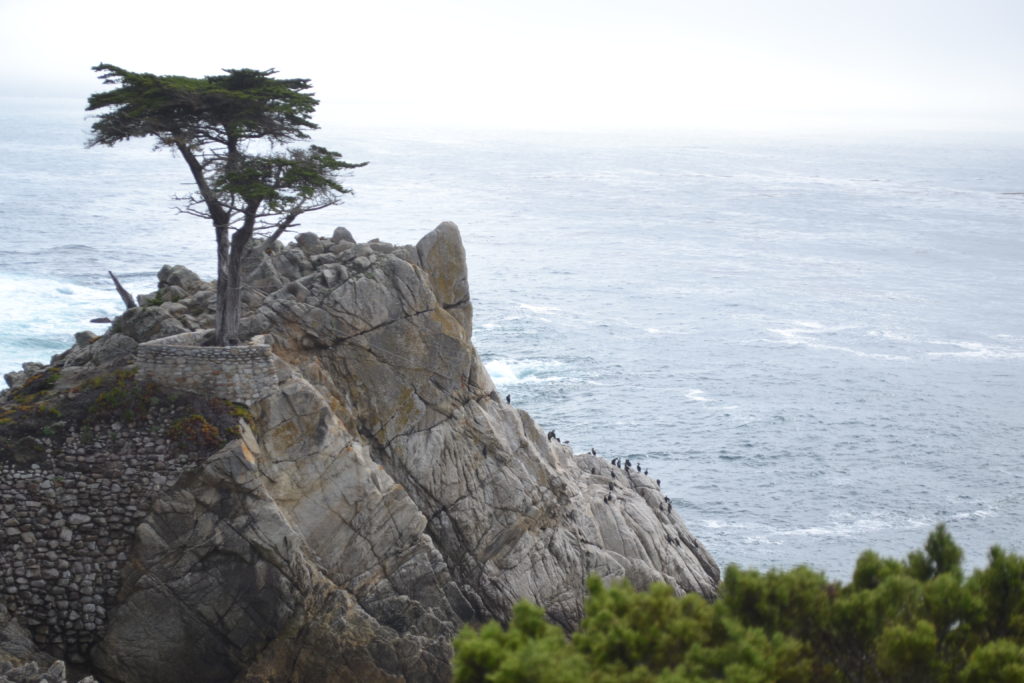 We meandered. We stopped when either of us saw something that drew us.  "Look at that, Mommy!" she'd point. I'd slow and if there was anything I could identify and we'd pull over and take a look. We walked on the beach at Big Sur and felt the wind and got absorbed by all the life in the tide pools. We drove the famous drive in Carmel and stopped at the Lone Pine to take photos.  We went to the Exploratorium in San Francisco and spent a few hours doing almost everything that could be done. We may have flown a kite in the Golden Gate park. That night, I think we made it to my friend Stephen's in Palo Alto where she ran around and had a swing with me in the elevated chair he'd built that could be pulled up to the clerestory in the ceiling. We swayed back and forth getting a little woozy with the height.  My friend and I stayed up late talking while she went to sleep in the cozy nest of the loft.  The next morning, he rode her on the seat his wooden home-made bike and we left after breakfast, waving to him, his wife and stepson as we pulled out of the drive.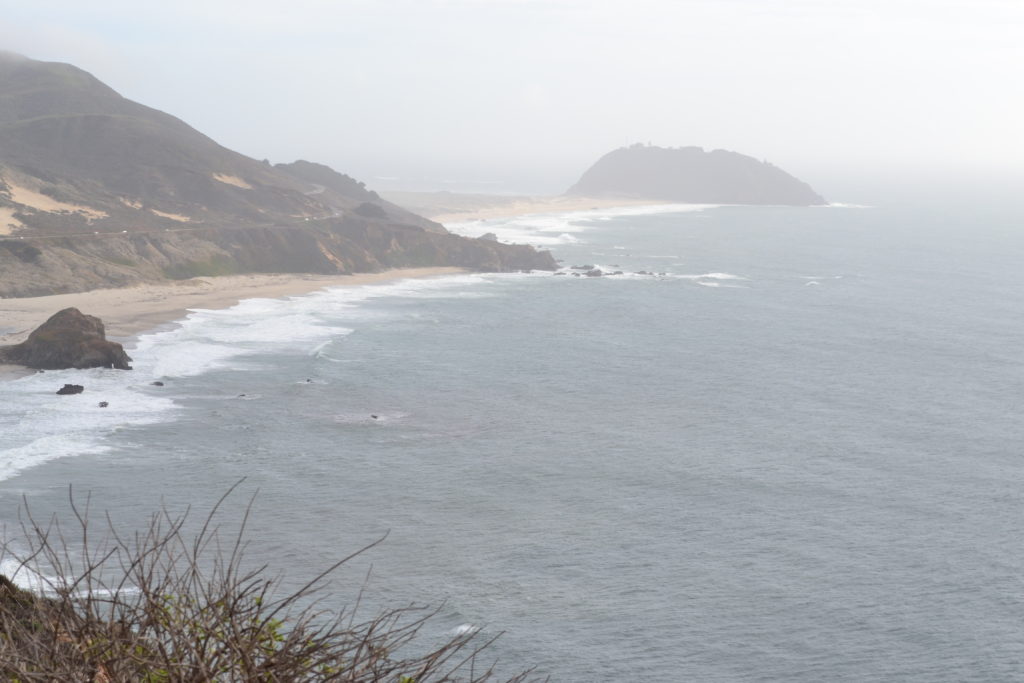 We went to the beach at Point Reyes as we'd done in the past. She had eaten sand there as a one-year-old. Now we joked together about it. We stopped at the Monterey Aquarium to admire the otters for at least an hour.  We stopped at gift stores, at any roadside attraction that didn't look pornographic or crassly commercial, we picnicked and had an elegant dinner here and there, she sipping Shirley Temples. We were road companions of the best sort, forging our friendship further, she a novice at life and language and I on break from profession and the prescribed activities of parenting.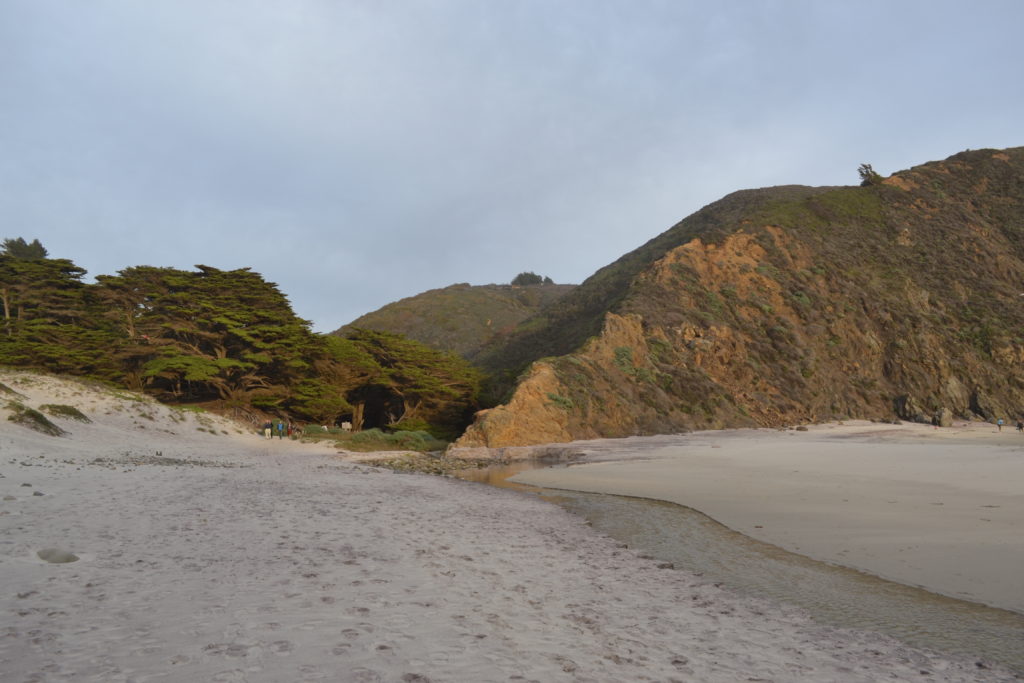 As we got into the woods of the northern California coast we stopped at Trees of Mystery, playing together among the weird forms despite the other tourists. Then we stopped in the Redwood State Park. I saw again how actually tiny in stature my road companion was, there among the huge Oxalis leaves that looked like a giant's clover, she stood, head tilted back, round blond head, pudgy arms hanging at her sides, eyes taking in the sheer enormity of it all. "What do you think?" I asked. I don't believe she was able to answer, totally dazed as she was. An old couple wandered through. The woman stood and looked at her for several moments before looking at me in the eyes, straight, deep, with a smile more in her eyes than on her lips. She turned and joined her husband as they wandered slowly, engulfed in the same awe.
That night, we found a small motel by the river with little log cabins and a swing set. We took a wonderful, cold refreshing swim together in the river where it slowed and eddied along the banks. Others were there, bathing in the evening sun filtering through the great trees pushing in towards the water. We ate sandwiches and climbed into the big, high bed. The movie "Gandhi" was on. We snuggled and watched it together, she asking questions as Ben Kingsley led the salt protest march to the sea and spoke to hundreds at an ashram. She fell asleep after a bit and I clicked off the TV, lying beside her in the dark, cool evening, listening to the river.
We explored the Sea Caves where the mad barks of seals echoed through huge rooms in the rocks like halls of an ancient castle, smelling of urine and seal feces. We stood by the ocean in Oregon and listened to the waves crash on the rocks.  We both still remember the surprise of finding a roadside "State Site" created especially for the Darlingtonia Carnivorous Plants that grow only in that one limited bog, their bright green hooded bulbous forms creating a perfect water trap for insects and adapted with leafy structures that resemble fangs or a serpent's forked tongue, making them look beautifully like a hooded cobra.  We stopped at light houses and climbed at least one, wondering at the people who had lived there, tending the motion of the huge reflecting light. We stopped at a petting zoo. And finally, about a week after our good-bye to Long Beach, we arrived at our strange new suburban house in Vancouver Washington, over the river from Portland, in a place where there was no ocean to bathe in of an afternoon, no eucalyptus or palm trees, no hot sun beating down, and no friends to walk to in the evening. We would see.