Amidst all that is going on around the world today—the Brexit vote, Donald (the guy teaching the world how to fire people from corporations) vs. Hillary (the guy being hired by corporations), cops being exonerated for the death of a black man in the back of their van, everyone ignoring the real motivations behind the Orlando shootings and believing only what they believe, no one paying much attention at all to the fact of a planet being murdered by all of us together, every day, dying in front of us in fits and starts, gasping—I attended the Whatcom County Superior Court hearing for two dear friends of mine, a couple who escaped a then-Communist Poland years and years ago only to eventually come to be persecuted by yet another authoritarian regime—the City of Ferndale.
They are being hounded for trying to transform an ordinary old two-story farm house they bought almost fourteen years ago on the Main Street (left over from more rural times) into a unique and marvelous Clock Tower of multiple stories, whimsical and attractive.    They run a construction company held in high repute that has renovated many public buildings in Canada and Washington State including several schools, a lighthouse, a city clock tower, a dome, a city park, a wing of a prison, and many others, doing much of the work themselves.  The house was purchased, in fact, right after they had completed seismic improvements on the City's high school and rebuilt a wing of an old local elementary school. They hoped to incorporate much of the high quality construction materials left over from various jobs into the design of their own Clock Tower (including, originally, four huge clocks which would face in the four directions). They clearly know what they are doing.  Both work harder and more efficiently than people half their ages. In the eight years we've known them, the City has managed to obfuscate every permit application they have made, delayed, refused, countermanded their own instructions, written ordinances specifically targeted at this couple's efforts and prosecuted them for the results of their obstructions.  I know these tactics from first-hand experience when, in trying to initiate a viable Farmers Market in Ferndale, we were ordered to follow  procedures and then told in the next breath there were no existing procedures.
Today was the second time I have attended a hearing in their case. The first was three months ago when the judge "compromised" with the City and gave them mostly 90-day deadlines to complete the construction. They were better than the totally unreasonable deadlines and fines the City asked the court to impose, but still unreasonable.  However, at the time, our friends thought they could meet the deadlines, working diligently and with the materials they had been given permits to use.
Soon after the court date, the City began complicating things further, asking for things already installed to be taken down (including some glass walls they subsequently wrote a city ordinance to prohibit) withholding fire permits, asking for an engineering inspection when none had been specified, etc. etc.  (I'm sure it's becoming evident that this case as it has wound along for ten years, has been enormously complicated. I plan to tackle an expose-length article telling the whole fascinating story, but I'll keep it brief here.)  Meanwhile, over the years that our friends have been blocked from using the materials they had accumulated, these had to be stored next to the building. They bought big white tents in order to cover some and decrease the eye sore, leading the City to develop new ordinances against large tents.   As a result of their inability to move forward, public opinion about the site plummeted, even as our friends continued to be hired to work on several of the local schools. It was not hard to find folks in the bars or the local grocery store complaining about those "lazy immigrants who just let things go and create a public eyesore. Why don't they clean that place up and just finish the damn house!"  The mayor fed this, directly and indirectly, dragging them to court over one thing and another while he proceeded to build a new police station much too large and too expensive for the town in the existing library's building, almost bankrupting the City in the process.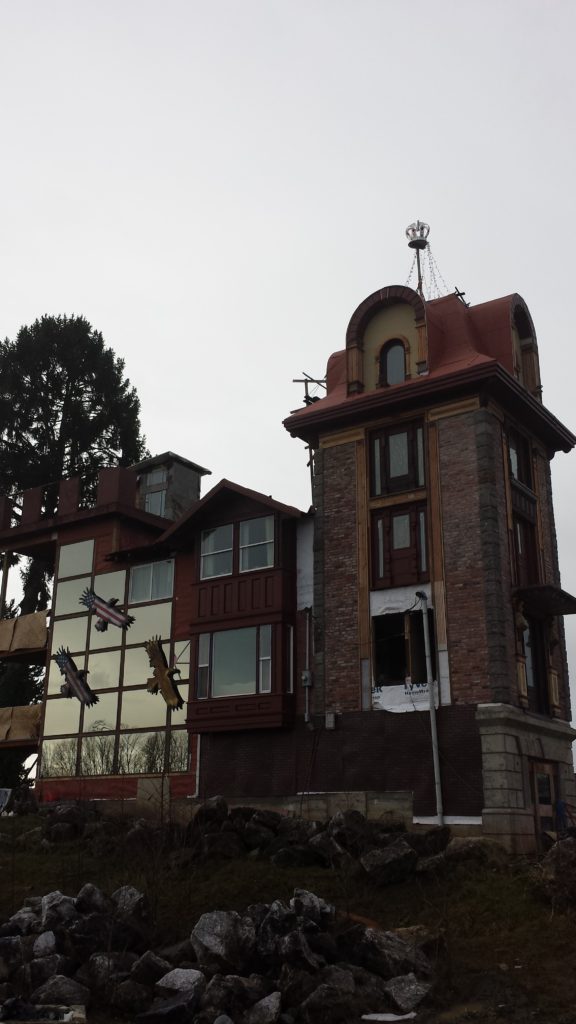 Today, the City's attorney complained in a fretful near-whisper to the judge that our friends were basically unruly children who "didn't like following rules" and clearly needed to be held in contempt of court and fined severely in order to get them to comply with the completion of the renovations.  The defending attorney made a decent attempt to counter and asked for the court to review what had been completed since the court order was issued in February. He then asked the court leave things as they are since his clients had actually substantially complied and were more than willing to move forward with the final stage as fast as humanly possible. He made the reasonable request that the court put the settlement agreement behind them and, if it felt it necessary, schedule status reviews in front of the court. The City asked instead that they be given a 30-day deadline (meaning they would have to postpone all the jobs to which heir company has committed in the coming weeks) and be fined substantially for their present non-compliance.  No testimony from our friends was allowed.  The group of local supporters who had dressed for court to attend the hearing were not allowed to speak.  The judge appeared to take the City attorney's word that the agreed items had willfully not been completed.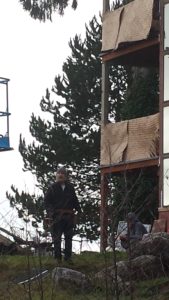 To end today's session, she stated she would take the decision under advisement until tomorrow. We shall see what transpires.  Margaret, the wife of the duo, wondered aloud over coffee and donuts after court if "the death penalty might be imposed for building a Clock Tower."  (Frivolity and humor were things the City has pointed to as indication of an anti-authoritarian attitude that must be quashed to protect the city from disregard of rules by other citizens.)  Her husband countered that the City's insistence they complete a metal roof on the tower before completing the spire for which they were just granted a permit would lead Margaret to slip to her death anyway, making it unnecessary for the court to impose that penalty.  One small-town travesty seems to speak volumes about life in our America, even when it speaks with a Polish accent.