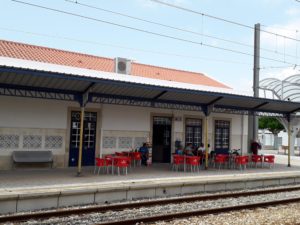 It's been two weeks and a bit more since we closed the deal on the farm. We're on the train in Evora, Portugal, waiting for it to leave the station. It will leave on time. We know that from experience now. The trains and buses run on time in Portugal. Two couples from Iowa have met each other in the station and are talking about their families at the front of the car. The flavor of home. The accents stand out for me as if the words were written in cartoon bubbles with caricatures of Americans speaking their lines.
Our two days in Evora gave us the flavor of the place, saturated with the sounds and smells of pouring thunder and lightning storms, purple jacaranda blossoms set delicately against both blue skies and grey, and an occasional orange tree still in bloom, the fragrance from just a few blossoms seeping secretly into our nostrils as we walked past, intoxicatingly sweet.
For us, it was not a place for sight-seeing. We stayed in a hostel tucked away in a courtyard near an old church, slept, ate and took walks to get acquainted with our surroundings. We found the ruins of the Roman temple in the middle of town and near it a lovely park with a view over the countryside where tourists and townspeople alike gravitated in the late afternoon during a wonderful interval of sunshine and clear air. Praca do Giraldo with its fountain, church, banks, cafes, pastry shop, and mysterious large lump of marble in the shape of some strange part of a human limb led into streets lined with luxury shops where people from the countryside come to do a little window shopping and be enticed to buy the things their small towns can't provide. The tourists, too, help support this flow of cash into the regional hub.
One of the hosts at the hostel, Margarida, lives with her husband on a farm 30 kilometers from town. Just like back at home, it seems that farmers need to supplement their income with a job in town. She talked about the pigs, sheep, goats and horses and the grain they grow to help feed them. Yesterday the thunderstorms, evidently rare here, finally made it to her farm and "only my farm" where the all the dogs suddenly whined and barked to come into the house all at once. "Terrible!" she said. "Too much rain!" "The climate is changing!"
The conversation shifts from this pivot point to a discussion of the politics of our respective nations. I say that I am already forgetting Trump. She commiserates with my difficulty but says, "He is president because enough people voted for him. Here, we did not get the president the people would have voted for. We elect our assembly. Since some Communists got into the assembly the government had to make a coalition. The leader they selected isn't one the people would have voted for directly. It doesn't feel like a real democracy."
I didn't go into the reasons the government of the US doesn't seem like a democracy either, but we agreed on the importance of government taking care of the most basic rights of human life—education of its young people and care for the health of all. She is clear that her country does these things well. I tell her that many Americans fear the nationalization of health care, scared that it will lead down the road to the nationalization of all services and therefore to Communism. She replies, "Maybe it's just because I'm a European. I believe these things should be a function of the government. They are basic rights. People here believe that with me."
Now we're passing a small town where the oak trees of the rolling plains seem to congregate at the boundaries and a huge stork is perched on top of a palm tree next to the ruins of a stone house. Suddenly, I wonder how I could be doing this. How I can be free of jobs, home, possessions, stability, taking a train through a countryside I never thought I'd see. The first night in Evora when the rain streamed down outside our open french doors and the thunder crashed, I cried as if I were the emotion of the storm itself, streaming, exploding, subsiding again. I let it come. The second night I slept soundly until the early morning when the church bells rang five times in the dry, dark air before anything else seemed to be stirring. Margarida insists on driving us to the train station and won't accept money for gas. We have a pastry and coffee while we wait and then climb aboard our first train of the day.
While we wait for our connecting train in Pinhal Novo, we start up a conversation with a retired couple from Wisconsin at the station cafe when we share a moment of delight watching an old man ride an electric tricycle up the marble ramp in the station, swerving playfully a bit from side to side as he went smoothly out of sight at the top.
They and another couple are also heading to Lagos. We carry our conversation to the platform where we all wait for the train, commenting on the concrete rails on the train track. Turns out the husband worked on the railroad In Colorado one summer during college, laying track. He notices these things now. After that, he was clearly a professional of some kind. We never talked about what we had done to make our livings.
He talks instead about the fifty acres of former farmland they bought when they moved out of town some years ago. It's about 30 miles south of Madison WI. I tell them that, coincidentally, this is not far from where I lived out in the country in 1976, when I was starting graduate school at the Univesity of Wisconsin in Madison. They are intrigued. We talk about how they're trying to return their land to prairie and struggled for the first years with the brome grass the farmer had planted to counter erosion. I learned that this kind of grass creates a sterile environment where nothing nests or feeds. They burned it two years in a row and pulled it from everywhere that it mounted its invasions. Now they're hiring someone to come in and plant a mixture of prairie remnant seeds, heavy on the milkweed to encourage the Monarch butterfly population. When they moved there they'd discovered that, to their surprise, the land around them was owned by people with similar interests. We talk about racoon, orchards, deer and sustainable agriculture until the train pulls up. Nice folks. We could know them. There are so many people we could know.
What kind of home will we have tonight in Lagos? Who will we meet? What will it look like around us in the town? Nothing is determined. A few small things are beginning to come into focus about the people and the country where we travel. What I am doing here is still one of the unknowns. To travel and then return to a familiar life is one thing. To travel in order to create a new pattern is another.
The sun was out in Pinhal Nouvo. Now from the train window the rolling hills, covered with tufts of low oaks and some taller pines, are shrouded with mist. There are no dwellings in sight anywhere. Even in this country, smaller than the state of Pennsylvania and much denser in the webs of its history, there is seemingly endless countryside.