After the holidays this year I was sick for several weeks with some sort of respiratory gunk. Since I rarely get sick (or maybe in spite of that), I felt useless. My ability to sustain a thought was so dull that I found it almost impossible to write or to connect emotion to cognition. Somewhere deep there was an inchoate grief lurking.
One morning I dreamt I was an amateur clown with an act at some sort of summer fair. It was the first time I had performed an entire solo routine.  I was excited and nervous. Dressed in a sketchy mime-like outfit, I sang a song without sound, did a dance to the wind and tried to communicate all this to the small, scattered audience. They went along with me and were vaguely amused, but it was only a beginning. Encouraged that I'd at least been able to organize the effort and put myself forward, I was packing up the site when a man who was evidently a professional clown walked up.  He said he was next on the billing and began to set up with the help of an assistant. The beginning of grey around his temples marked him as a man at least beginning middle age, but there was the energy and look of vigorous youth about him. I liked him immediately, but was somehow wary. He was foreign with slightly olive skin and dark hair, perhaps from Montenegro, dapper and polished. As I continued to pack, he asked
"Are you from some kind of religious group?"
"No" I replied.
"Just an aspiring learner then?"
"Yes" was my response.
Finishing my packing in his presence, my self-consciousness began to return.The gap between what he knew and my own experience was so wide.  How could I even hope to achieve the artistry he possessed, especially so late in my life. He was a "mountebank" I knew, but I still might learn something interesting by staying to watch. I woke up as a decision was still settling in my mind. Continue down this path, or choose another? Does it matter which, as long as you are willing to risk everything?
With the dream still clear in my mind, I got out of bed and found that space was finally beginning to clear inside my mind. Still swimming, as some large fish navigating through murky waters with occasional brilliant flashes of sun, I struggled through the day until I felt an overwhelming need to move, to see something new but familiar.  A walk somewhere near and untraveled would help. There's a trail nearby that leads to a small beach on the Georgia Strait—a place to listen to the woods and the ocean and see what they have to say about the whole matter.
At this edge of the continent, the water was a blue that was colder than the warm turquoise of the Mediterranean, but so wide and deep that it encompassed everything. The ducks floated here and there, one suddenly disappearing, another suddenly appearing on the surface. Each disappearance was a revelation of the world under the water, waving ell grass and weaving herring—a world extending infinitely downward and outward, joining the sky that extended infinitely upward and out and out. Each duck had its own idiosyncratic way of digging in under the surface. One had a little jump upward and then head a bit flat to the water as it dove. Another a graceful turn down of its bill and a gentle glide down, propelled imperceptibly by an underwater stroke of its wings.  Their combined movements, patterns ever-changing, were a counter rhythm to the music of the ocean. I breathed in the light and the heat of the sun through my nostrils and into the center of my chest where it radiated outward into the ocean and sky. Then I imagined breathing in and out through my ears, drawing in the sound of the moving water, the small waves and the larger crests, breathing out the quiet sound of the water sucking the round rocks. The imagining became actual, my breath making channels through the stuffiness in my head, clearing space.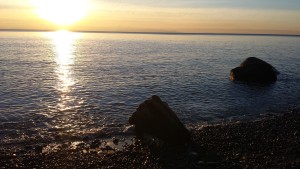 I stayed, rapt, for much longer than I had anticipated, remembering from time to time that there was nothing more pressing to be done. I stayed until the sun sank almost to the horizon, watching the light change the water to shades of indigo and purple and the wave-tossed logs on the beach a deep golden. On my way back to the trail, I passed a grandmother, her daughter and her grand-baby enjoying the dying light, taking photos of each other against the sinking sun, the baby's face pale and perfectly open in the aura of his warm bear suit, eyes open wide to everything existing within their scope.